Chiney and Golic Jr.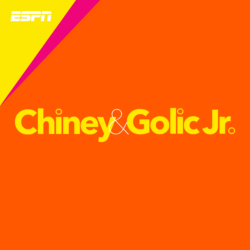 With a finger on the pulse of sports and culture, your afternoon drive will never be the same. "Chiney & Golic Jr." are a youthful and energetic pair, committed to delivering the most entertaining, intelligent and nuanced content on radio. Chiney and Golic Jr. are plugged in to what's going on, and the two are well connected with industry headliners and influencers. One was the first overall pick and a successful professional athlete, the other, well not so much. One thing they both know is providing relevant and impactful content, which in the process will lessen divide between athletes and the media. The future is now for Chiney & Golic Jr. and ESPN Radio.
Chiney Ogwumike is a full-time, multi-platform ESPN commentator and forward for the WNBA's Los Angeles Sparks. In August 2020, she began hosting Chiney and Golic Jr., becoming the first Black woman to host a national, daily sports-talk radio show. Ogwumike and co-host Mike Golic Jr. engage with fans while discussing topics of the day and looking ahead at the night's events. The show, which airs from 4 – 7 p.m. ET., is also simulcast on ESPNEWS.
In August 2020, multi-platform host Mike Golic Jr. joined two-time WNBA All-Star Chiney Ogwumike for their new show on ESPN Radio, Chiney and Golic Jr. The show – which airs from 4 – 7 p.m. ET and is also simulcast on ESPNEWS – engages with fans while discussing topics of the day and looking ahead at the night's events. In addition, Golic Jr. is a regular fixture on ESPN's social media and digital content surrounding marquee events and key announcement shows such as the Super Bowl, NFL Draft and College Football Playoff Rankings Reaction with Jason Fitz
---